Product
V.35 Plugs & Receptacles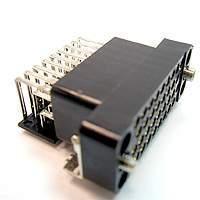 Receptacle Connector (V35R SERIES)
Product ID: V.35 Interface PCB Right Angle Type Receptacle (Cisco V.35)
As a reliable electrical connector supplier, FU YAO is specialized in offering receptacle connector, plug and socket connectors, etc at reasonable price. The plug and socket connectors include a male plug (typically pin contacts) and a female receptacle. We offer the V.35 receptacle connector, a high-speed serial interface designed to support both higher data rates and connectivity between data-terminal or data-communication equipment or over digital lines.

In general, the connector is a unique end of plug, and the receptacle connector we offered is normally used by most routers and DSUs that connect to T-1 carriers for synchronous communication interfaces. They are used in many industrial and electronic applications in the world. What's more, it can be applied in commercial telecommunication including private lines, frame relay, ATM, and Internet access etc.
Our electrical connector series include plugs, USB connector, receptacle connectors, half pitch pin type connector, round cable, and more all have required UL approval to ensure the product safety and quality. FU YAO is a professional manufacturer specialized in producing and designing a full selection of high quality electronics components and connectors. If you are interested in our products, please feel free to contact us for more info.
V35R Spec

Specifications:
1. Type
2. No. Of Contacts
3. Contact Type
4. Insulator Color
5. Contact Plating
6. Insulator Length
7. Ground Tab

A: Screw Z Shape
B: Screw L Shape
Features:
V.35 series have been designed for use in industrial and commercial telecommunication systems that require a UL-approved high quality interconnect for data transfer.
V.35 provides a simple and inexpensive solution that allows for superior speed and noise immunity by using differential signalling on the data and clock lines.
V.35 is in use on DSU, CSU, router, and frame relay systems throughout the world, with achieved speeds of up to 2 mbps.
- It can be loaded in any contact pattern from 1 to 34 contacts per connector and can be custom loaded in any configuration.
TE TYCO M serials Pin and Socket Connector, meets requirements of 408-2593, ISO 2593 for CCITT V.35 interface.
AMP Part Numbers: 213300-1,213300-2,213300-3,213300-4,213522-1,213522-2,213522-4,213300-7,213931-1,213931-2,213931-3,213931-4,213931-5,213932-1,213932-2,213932-3,213932-4,213932-5**,213684-1,213684-2,213684-3,213684-4,213684-7,213685-1,213685-2,213685-3,213685-5,213684-9,1-213684-0,213803-1,213803-2,213804-1,213804-2,213805-1,213805-2,213803-3,213804-3,213805-3.
Positronic Heavy-duty Rectangular CCITT V.35 Interface. Size 16 contacts conforms to MIL-DTL-28748 IEC Publication 807-1. GMCT Series, GAP Series, GAPL Series, V.35 Series, VMCT Series, VAPL Series, BAP Series, BAPL Series, GM Series.