Product
V.35 Connector Crimp Type (Cisco V.35)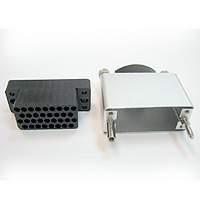 V.35 Connector Crimp Type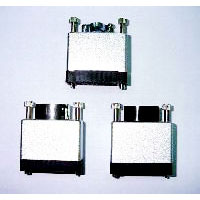 V.35 Connector Crimp Type (Plastic SR / Metal SR / Chromated SR)
Product ID: V35
V.35 receptacle connectors is the interface generally used by most routers and DSUs that connect to T-1 carriers used for synchronous communication interfaces. In general, V.35 is a high-speed serial interface designed to support both higher data rates and connectivity between data-terminal equipment or data-communication equipment over digital lines. This type of receptacle connector has been used in many industrial and commercial telecommunication applications including private lines, frame relay, ATM, and Internet access etc.

Crimp connectors are typically used to terminate stranded wire. They fulfill numerous uses, including allowing the wires to be easily terminated to screw terminals, fast-on / quick-disconnect / spade-foot type terminals, wire splices, various combinations of these. Crimp-on terminals are attached by inserting the stripped end of a stranded wire into a portion of the terminal, which is then mechanically deformed / compressed (crimped) tightly around the wire. The crimping is accomplished with special crimping pliers.

The products are manufactured by a professional supplier, FU-YAO, specialized in manufacturing and designing a full selection of quality connectors. Please feel free to contact us for more info.
V35H Spec

Specifications:
1. Name

V35H: V.35 Crimp Type Housing+Cover

2. No. of Contacts
3. Contact Type
4. Insulator Color
5. Shell Plating Color
6. SR Type

A: With Cover (Plastic S/R)
B: With Cover (Metalize S/R)
C: With Cover (Matel S/R)
Features:
Features

V.35 series connectors have been designed for use in industrial and commercial telecommunication systems that require a UL-approved high quality interconnect for data transfer.
V.35 connector can provide a simple and inexpensive solution that allows for superior speed and noise immunity by using differential signalling on the data and clock lines.
V.35 connector is in use on DSU, CSU, router, and frame relay systems throughout the world, with achieved speeds of up to 2 mbps.
- It can be loaded in any contact pattern from 1 to 34 contacts per connector and can be custom loaded in any configuration.
TE TYCO M serials Pin and Socket Connector, meets requirements of 408-2593, ISO 2593 for CCITT V.35 interface.
AMP Part Numbers: 213300-1,213300-2,213300-3,213300-4,213522-1,213522-2,213522-4,213300-7,213931-1,213931-2,213931-3,213931-4,213931-5,213932-1,213932-2,213932-3,213932-4,213932-5**,213684-1,213684-2,213684-3,213684-4,213684-7,213685-1,213685-2,213685-3,213685-5,213684-9,1-213684-0,213803-1,213803-2,213804-1,213804-2,213805-1,213805-2,213803-3,213804-3,213805-3.
Positronic Heavy-duty Rectangular CCITT V.35 Interface Connectors. Size 16 contacts conforms to MIL-DTL-28748 IEC Publication 807-1. GMCT Series, GAP Series, GAPL Series, V.35 Series, VMCT Series, VAPL Series, BAP Series, BAPL Series, GM Series Connector.